Lueur Des Sens
The Magic Of Fragrances
Evolving since her very young age around the world of fragrances thanks to her family being from Grasse, the perfume capital. Eléonore represents the 5th generation of her family in the art of perfume creation and develops since October 2017 " Lueur des Sens " in Geneva.
It is in the offices of AC & M Parfums, the factory-laboratory of the MURAOUR family, that Eléonore works today. With the support of her mother Rafaela and thanks to the talent of her aunt Vanina, the NOSE, she shapes her candles from A to Z.
Joined in this project by his friend Arthur Hardy-Neel, they master all the stages of candle making: From the choice of glasses and the  cotton wicks, to the organic soy wax and design of the boxes to the final choice of creation.
Creativity, quality, rigor and empathy are values ​​dear to the heart of " Lueurs des Sens ".
The Chinese portrait of Eléonore
by Laurence Janin:
"A girl in the air of the time.
A heroine ?
All women engaged. From Simone Veil to Ashley Graham to Michelle Obama.
A quality ?
A mix of energy, perseverance and will.
A mantra?
Never disappoint
Material ?
The leather of my perfecto, sexy and protective.
Essential?
Phone, Labello, headphones, Clopes.
A smell between all?
The chimney fire of the family cottage.
A social network?
Instagram, to tame my image. "
Laurence Janin
Journalist, Author, Blogger and curious bitter.
"At my ladder of any young woman, my job echoes, modestly but passionately, that of waxers and candlesticks of old. I also want to choose my materials and make each gesture – dosing, pouring, preparing the wick – precisely … and the enthusiasm that characterizes me! "
Eléonore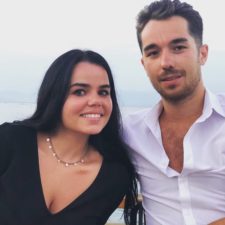 Lueur Des Sens
13 Route de Montfleury
1204 Genève
+41 79 754 86 22